IPICS2015 - Intensive Programme on Information & Communication Security
SCHOOL OF SCIENCES - Department of Information and Communication Systems Engineering
6 Jul 2015

to

17 Jul 2015
Social Events
Sunday 5th July: Registration and Welcome Reception at Heliotrope Hotel.
Sunday 12th July: Exhibition.
IPICS2015 Social Event - Sunday 12th July 2015
The theme of this year's social event is the visit to the most important cultural "spots" of industrial heritage of Lesvos Island.
Our exhibition's schedule starts by visiting EPOM, one of the largest ouzo manufacturers in Greece, located in Mytilene, the homeland of the smoothest ouzo in Greece.
Furthermore, we will be hosted by The Museum of Industrial Olive-Oil Production of Lesvos. The Museum is housed in the old communal olive press of Aghia Paraskevi of Lesvos Island.
At the Museum, we will have the chance to become familiar with the work cycle relating to the production of olive oil and we will taste some of the finest olive-oils of Lesvos.
Finally, on Sunday 12th of July, our schedule includes a visit to Molyvos. The village of Molyvos is located on the northwestern tip of Lesvos island. Molyvos is believed to be one of the most beautiful destinations in the world. Its traditional settlement, organized social life and hospitable residents will win your heart from the very first. Archeological finds show that this village has been inhabited since the Bronze Age, and was a very important city in antiquity. All the houses are constructed of stone or wood, and densely situated amid a network of kalderimia. The overall picture of the village, with its courtyards and balconies, is not only uniquely beautiful but also a most interesting example of town planning, well-deserving of its protected status.
The social event's timetable will be announced before the beginning of the summer school.
Photo Gallery
Castle of Mytilene 
Moria Aquarium
Skamnia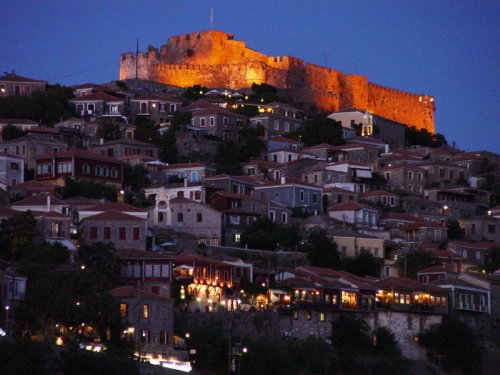 Molivos