Emerging Architectures and Key Technologies for 5G Networks - AegeanNetCom2015
SCHOOL OF SCIENCES - Department of Information and Communication Systems Engineering
19 Aug 2015

to

28 Aug 2015
View from the port of Karlovassi: Preparing for the Aegean Regata 2015, Hosted in Samos during August.
View from the church of st. Nikolaos at Potami Karlovassi. A good opportunity to visit after lesson for relaxing, only three kilometers distance from Karlovassi.
View of Karlovassi, a good stroll during afternoon
View of Karlovassi with its central church
Potami beach of Karlovassi, only three kilometers from Karlovassi, a nice opportunity for a swim after class
View of the old village of karlovassi, known today as "Palaio Karlovassi (old Karlovassi)"
View of Karlovassi port, after class take the opportunity for a relaxing stroll and take photos
"The traditional building of "Porfuriada School of Karlovassi"
The traditional building of the old "School of Commerce", today is the building of Department of Mathematics
View of the traditional church of st. Nikolaos on the hill above the beach of Potami
- Day 1:
Lecture by Prof.Latif Ladid for "The IPv6-Only-based 5G Mobile Wireless Internet"
Cooperative Communications and the role of Relay in 5G by Demosthenes Vouyioukas
MIMO Systems & Applications by prof. Athanasios Kanatas
- Day 2:
T. Pliakas from Cloudstreet on "BW Brokerage for 5G Mobile NWs"
Studying "Small Cells as a Service Enabler for 5G" with Prof. Anastasios Dagiuklas
- Day 3:
Prof. C.Politis on Ubiquitous 5G NWs
"Service Orchestration for Virtualized Software Networks" from Dr. T.Zahariadis
-Day 4: 
Special trip for our participants around Samos island.
-Day 5:  Gala Dinner 
- Day 6:
Dr. Themistoklis Charalambous lecturing about "Power Control in Wireless Networks"
Prof. Ioannis Krikidis - "Wireless Power Transfer for Communication Systems"
- Day 7: 
Dr. Georgios Kormetzas on "5G Accelerators - The Agriculture Use Case"
Dr. C. Skianis, lectures on "Cloud Networks and Technologies"
Presentation on Network Coding by Davri Eleni-Konstantina
- Day 8: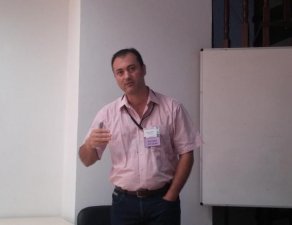 Prof. Angelos Rouskas on "LTE & LTE-Advanced KPIs"
Demo presentation by Oikonomou Efthymios
Learning about SDN & MAC Layer Design by Assist. Prof. Dr. Berk Canberk "THz Wireless Comms for 5G"
- Day 9:
Dr. Christos Goumopoulos on "Software Engineering & Pervasive Computing"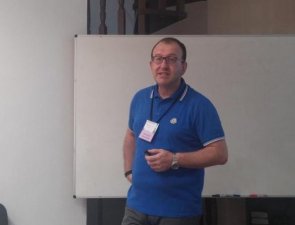 Dr. Christos Verikoukis on "Energy Efficient & Green ICT Networks"
- Day 10:
Prof. Demetres D. Kouvatsos lecturing on "Performance & Security Trade-offs for HET-NETs"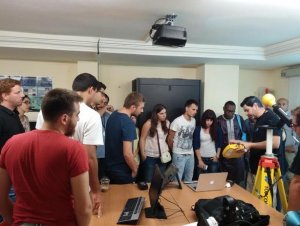 Lab time! Short presentation of facilities & equipment of CCSL
IEEE Aegean Student Branch & CCSL - Photo Contest:
1st Prize: Photo by Liakopoulos Alexandros-Dimitrios
2nd Prize: Photo by Kiamilis Nikolaos
3rd Prize: Photo by Lekkas Antonios
Special Photo Award to Ramazanali Hawar for his photoshooting during the Summer School.
We hope that you had a good sunny learning experience in Samos Island.
With best regards,
AegeanNetCom2015