2nd International Summer School on Emerging Architectures and Key Technologies for 5G Networks - AegeanNetCom2016
SCHOOL OF SCIENCES - Department of Information and Communication Systems Engineering
29 Aug 2016

to

2 Sep 2016
View from the port of Karlovass at night: Nice place for rest after a day of lessons
View from the church of st. Nikolaos at Potami Karlovassi. A good opportunity to visit after lesson for relaxing, only three kilometers distance from Karlovassi.
View of Ancient temple of Hera stated at the village of Heraion Samos
Potami beach of Karlovassi, only three kilometers from Karlovassi, a nice opportunity for a swim after class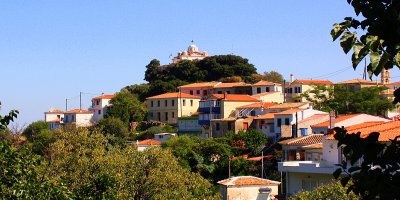 View of the old village of karlovassi, known today as "Palaio Karlovassi (old Karlovassi)"
View of Karlovassi port, after class take the opportunity for a relaxing stroll and take photos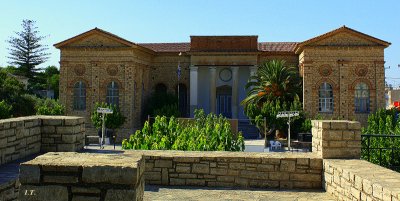 "The traditional building of "Porfuriada School of Karlovassi"
The traditional building of the old "School of Commerce", today is the building of Department of Mathematics
View of the traditional church of st. Nikolaos on the hill above the beach of Potami
Lecture by Prof. Demosthenes Vouyioukas on "The role of Relays in 5G Systems"
MIMO Systems & Applications by prof. Athanasios Kanatas
Prof. Stavros Stavrou on "Channel modelling and radio planning through raytracing for indoor and outdoor scenario"
Dr. Angeliki Kordali from Nokia on "Cognitive Systems for 5G Networks"
Dr. Christos Verikoukis, CTTC, lecturing about "Infrastructure Sharing in 5G"
Prof. Periklis Chatzimisios, from the Alexander Technological Educational Institute of Thessaloniki, lecturing on a very interesting subject: "IoT and Big Data: Applications, Technologies and Standards"
Dr. Konstantinos Samdanis from #NEC Europe (Germany),on "Network Virtualization and Slicing for Emerging 5G Systems"
Prof. Charalabos Skianis is lecturing about "Cloud Networks & Technologies"
PhD student Nikos Angelis presenting the lab equipment of CCSL laboratory of ICSD
George Alexiou from Technological Educational Institute of Crete, on "Network Functions As-a-Service over Virtualised Infrastructures (SDN/NFV)"
Dr. Christos Goumopoulos from the University of the Aegean, on "Software Engineering and Pervasive Computing"
Dr. Dimitris Skoutas, Member of #CCSL of #ICSD on "Single & Multi-cell Scheduling in LTE-Advance"
 Prof. Petros Nikopolitidis from the Aristotle University of Thessaloniki is lecturing on "Architectures and Protocols for Hybrid Optical Wireless Networks"
Prof. George Kambourakis from the University Of Aegean, on "LTE Security: The road so far and the journey ahead"
Prof. Lambros Sarakis, from TEI of Central Greece, on "Smart Grids: A Use Case for 5G Systems"
We hope that you had a good sunny learning experience in Samos Island.
With best regards,
AegeanNetCom2016