3rd International Summer School in e‑Business - eBiz2015
SCHOOL OF SCIENCES - Department of Information and Communication Systems Engineering
Please, vizit our new website
eBiz2015 is sold out!
Sorry but we cannot add anyone else to this year's event. However, you can go on our website (http://ebizsummerschool.com) or send us an email (  ebiz2015@aegean.gr) and request to be added to the notification list for eBiz2016!
Happy summer holidays!!!
eBiz2015 International Summer School program is designed to introduce attenders to the world of online marketing. Participants will learn how to increase their online business visibility and gain the confidence and know-how to use effectively the latest digital marketing techniques.
Sessions of Summer School
Digital Marketing Plan - Create a digital marketing strategy, grow your online audience, increase sales and allocate marketing budget across a number of online marketing channels.
Social Media Marketing - Benefits of Social Media marketing, Create and manage online communities. Social media advertising and monitoring.

Google Adwords - Manage keyword listings, design and customize your ads, Build correct landing pages, Track your campaign results to maximize ROI.
Search Engine Optimization- Understand how Search Engines work, Understand On-Page SEO, Implement optimization techniques and link-building strategies.

Advertising Analytics- Understand the role of advertising analytics, identify metrics (KPIs) and business intelligence reports that matter.
Conversion Marketing - Improve sales conversion rates on websites, Use statistical methods and software to gather data about click-through and conversion rates for online ads, Provide a roadmap for improving landing pages, shopping carts and forms.
Who is organizing it and when
The Department of Information & Communications Systems Engineering of the University of the Aegean organizes the 3rd International Summer School in Electronic Business (eBiz2015), from the 3rd till 6th of July 2015, in Hermoupolis, Syros Island, Greece.
Participants: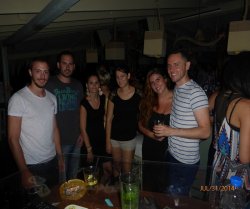 The 4-day Summer School, addresses to:
* IT entrepreneurs, Business executive and Consultants
* Undergraduate and postgraduate students
* University and Technological Educational Institutes graduates and holders of Degrees
* PhD students, postdoctoral researchers and young scientists
* Key stakeholders of the public and private sectors related to e-business
who wish to enhance their theoretical background and practical skills in the field of e-Business and Digital Marketing.
Facilities:
* Educational material via e-class
* Student's bag
* Coffee breaks
* Daily lunches (light meals)
Tuition Fees:
200€ 150€ (early-bird registration) For professionals, post-Docs, members of Greek chambers, and eBiz2013-eBiz2014 participants:
150€ 100€ (early-bird registration) For BSc, MSc and PhD Students.
Language
Lectures will be carried out in English
Certificate
Upon completion of eBiz courses, participants will receive a Certificate of Attendance (1.5 ects credits).
Important Dates:
04/20/2015 - Deadline for early Registration
06/22/2015 - Deadline for tuition payments
The "University of the Aegean Summer Schools" are supported by the project «The University of the Aegean, the prominent and driving factor for the economic and social growth of the wide Aegean area» of the Operational Programme "Education and Lifelong Learning", which is co-funded by European Union (European Social Fund) and National Resources.